Emily Ann Moylan
Born: 28 January 1822, (2, Rue de Mondovi) Paris
Died: 16 February 1883, Norwood.
Father: Denis Creagh Moylan
Mother: Mary Morison King
Married: Hercules Henry Graves MacDonnell, 18 July 1842, Gretna Green, Scotland.
Children:
Mary Frances, b. 23 April 1843, Upper Mount Street, Dublin.
Emily Héloïse, b. 1 June 1844, Upper Mount Street, Dublin.
Richard Graves, b. 10 September 1845, Upper Mount Street, Dublin. d. 24 February 1862. Killed after falling from the topsail yard on the Victor Emmanuel in the North Atlantic.
Jane Harriet Elizabeth, b. 13 August 1847, d. 25 July 1859, Sorrento Cottage, Dublin of Scarlatina.
Charles Edward, b. 14 March 1849, d. 31 July 1859, Sorrento Cottage of Scarlatina.
Hercules Henry, b. 23 March 1851 at 2, Harcourt Place.
Alfred Creagh, b. 28 January 1855 at 61, Upper Baggot Street, Dublin.
Frederick Theodore, b. 27 June 1860 at 61, Upper Baggot Street, Dublin.
Education:
Career:
Other information: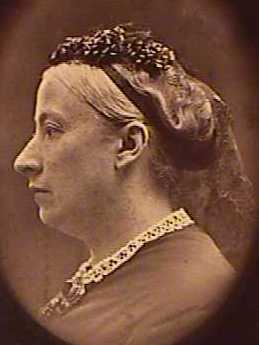 Emily's elopement with Hercules MacDonnell occured on the same day (Sunday, 17 July 1842) as that of her cousin Amelia Vertue Jodrell with Charles Fitzgerald Higgins. Being the daughter of a baronet, Amelia's elopement was mentioned by almost all the London papers (although without actually mentioning her name); however a pair of articles on page 3 of The Satirist of 24 July 1842 not only name names, but also mention Emily. They also manage to mis-spell her name ("Moyland") and her husband's ("McDonald"). It is reassuring to know that journalistic standards were just as low then as they are now.
Gretna Green, by the way, is the nearest Scottish village to Carlisle, and was a favourite destination for eloping couples on account of the rather more lax Scottish marriage laws, which only required the couple to declare before witnesses their wish to be married. Famously, the ceremony was most often performed by the village blacksmith.
With children and children's spouses in Dundalk, August 1881. She is seated in the middle. Charles and Emily Boissevain are on the top right. As for the rest, I cannot be sure, but I would guess as follows: standing L->R: Frederick, Mary, Augustus, Emily Boissevain, Charles; seated, L->R: Fannie, Hercules, Emily, Alfred, Adele.