Ruth Hirsch
Born: 10 May 1913, Cincinnati, Ohio, U.S.A.
Died: 15 December 1995, New York, U.S.A.
Father: Samuel Hirsch
Mother: Celia Moscowitz

Education:

Career:

Worked as a proof reader.

Other information: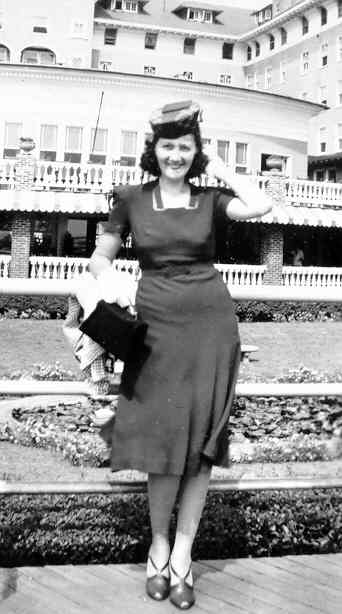 RH writes: My friend Virginia and I spent a day in Atlantic City in 1935 and my photo was taken posed in front of one of the swank hotels on the boardwalk. I was a symphony of navy blues. The hat was made of plaid taffeta in shades of red and blue.
RH writes: Here we are--Brigid, myself and Olga--sightseeing in Dublin. We're on O'Connell Street, caught by a street photographer on the bridge overlooking the River Liffey, in September 1952 on my first trip overseas.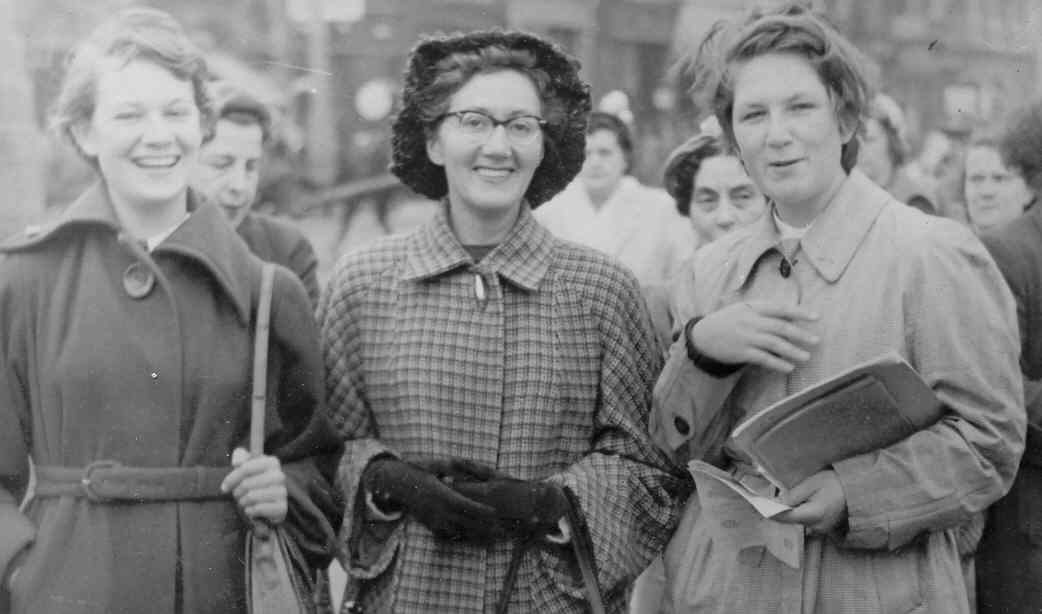 Niece Brigid Marlin (on left) writes:
Aunt Ruth was a wonderful character. I always told her that she was my favourite aunt, but she retorted crisply that she was my only aunt! You couldn't put one over on Auntie. Aunt Ruth was a big part of my childhood. My older sister Olga and I used to visit our grandparents in New York. When we were 8 and 7 years old we were deemed responsible enough to travel by train from Washington to New York, where we were met by Aunt Ruth and taken to our grandparents' apartment. Olga was Grandma's favourite, but I was Aunt Ruth's. When we drew in our colouring books and asked the grown-ups which one was better, Grandma always picked Olga's as best, and I used to wait anxiously for Aunt Ruth to come home from work, because she always said that my drawing was better. She brought glamour into our lives; taking us to the Ritz and the St. Moritz - places where we had to be on our best behaviour and eat carefully, choosing the right knives and forks. She took us to the theatre where we saw "Over the Rainbow" and "IceCapades". The only worry on these outings was that sooner or later we would have to use a public toilet and we were only allowed to go in there after dark warnings from Auntie about hideous germs and diseases waiting to pounce on us if we weren't extremely careful. Sometimes our cousins, Marbeth and Harry were brought over to play with us. Auntie loved children and revelled in our company. Olga and I always felt that they were the favoured cousins, but later on Marbeth and Harry said that they felt that we were the favourites. We always felt it was a shame Auntie had never married, as she loved children so much, but she sacrificed her life to look after her parents, and cared devotedly for both of them until they died. Auntie rose to the top of her profession as proof-reader and she was known as the best proof-reader in New York. She had a sharp eye for faults and proof-read her relatives, too. She could spot a defect straight away, and caught me out several times in slovenly habits. She always loved visitors and would lay out enormous breakfasts with huge bagels - a species of bun which I never cared for. I would tentatively down a quarter of one, and Auntie would scold me for not eating enough: "If you don't eat up these bagels then I'll have to! You wanna make me fat?" We had marvellous fun on our outings. We went to different restaurants and laughed all the time. Auntie had a marvellous sense of humour and it was sheer pleasure to make her laugh. She loved taking her nieces shopping, but we always had a tussle of wills. Auntie wanted to buy me respectable clothes, and I wanted arty clothes, being, after all, an artist. It took a whole morning before we found a compromise, and then Auntie would beam as the clothes were wrapped up, saying, "Wear it in health!" She gave us all a sense of occasion and a spirit of fun. We all remember her wih great love, and a final tribute to her is that we never forget to be careful in public toilets.