Benjamin Oakley
Born: 4 June 1901, Birr, Co. Offaly, Ireland.
Died: 15 March 1957, Birr, Co. Offaly, Rep. of Ireland.
Father: Jonathan Verney Oakley
Mother: Mary Jane Horan
Married: Esther Mabel Greene, August 1928, Toronto, Canada.
Children:
Mary Edith, b. 8 March 1930, Toronto, Canada, d. 5 February 1996, Stirling, U.K.
Dorothy Eleanor, b. 23 November 1931, Toronto, Canada.
Benjamin, b. 24 August 1933, Warrenpoint, N. Ireland, d. 27 July 2012, Tullamore, Rep. of Ireland.
Muriel Lorna Eveline, b. 25 March 1939
Education:
Career:
Emigrated to Toronto, Canada in 1926. Worked for bakery business initially breaking wild horses for use in the city, then, after he married, delivering bread. Returned to Ireland 1933. Added a bakery to his motherís confectionery business in Birr.
Other information: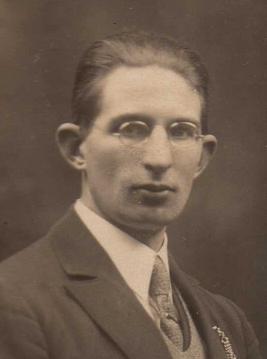 Benjamin's physical similarity to Eamon de Valera (Irish Prime Minister, 1932-1948) resulted in his arrest once when travelling back from Dublin around 1923 - while de Valera was on the run, but he was released once they realised that they had the wrong man.
With family, c. 1954. L->R Dorothy, Benjamin sr., Mary, Ester, Benjamin jr., Muriel.