Edith Emily Smith
Born: 1877
Died: 13 April 1964
Father: James Alexander Smith
Mother: Esther Hamilton
Married: Thomas Henry Greene, approx. 1898.
Children:
Ida, b. approx. 1900, d. 1930. m. George Williams, also died young. Children Elizabeth (?) and Joan raised by sister Esther.
Harry, b. approx 1901. Taken in as apprentice in sawmill in Borrisokane, aged 14 (Williamson family). Moved to Canada later. Daughter Helen Hodges lives in Toronto.
Jimmy, b. approx 1903, d. 29 December 1977.
Elsie, b. approx 1905, d. 19 April 1990.
Esther Mabel, b. 19 December 1907, Thurles, d. 30 August 2001.
Doris, b. approx 1911, d. 22 November 1992. m. Sidney Bingham (d. 3 April 1996). Lived in Derbyshire.
Phyllis Amanda, b. 1914, d. 18 January 2001. m. Cecil Lea (d. 24 October 1970).
Career:
Other information:
Daughter Esther wrote a piece about her mother.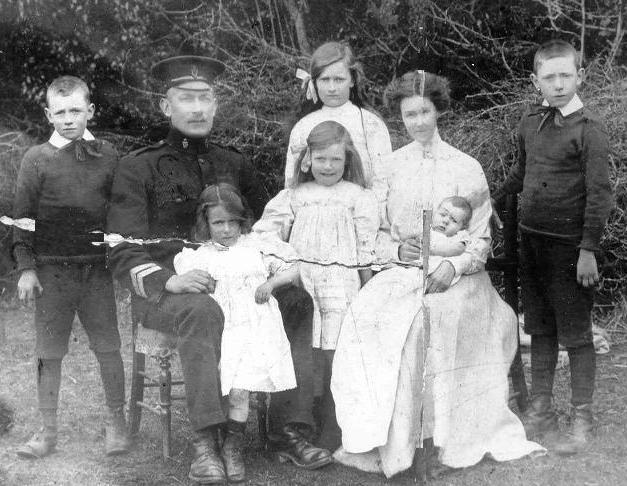 Greene family c. 1912.
L->R Jimmy, Thomas, Esther, Elsie (in front), Ida (behind), Edith, Doris, Harry (Phyllis not yet born).