Thomas Henry Greene
Born : 1871, Rath (Thomastown), nr. Birr, Co. Offaly, Ireland
Died: 20 March 1956, Warrenpoint, N. Ireland.
Father: Thomas Henry Greene
Mother: Mary Nolan
Married: Edith Emily Smith, approx. 1898.
Children:
Ida, b. approx. 1900, d. 1930. m. George Williams, also died young. Children Elizabeth (?) and Joan raised by sister Esther.
Harry, b. approx 1901. Taken in as apprentice in sawmill in Borrisokane, aged 14 (Williamson family). Moved to Canada later. Daughter Helen Hodges lives in Toronto.
Jimmy, b. approx 1903, d. 29 December 1977.
Elsie, b. approx 1905, d. 19 April 1990.
Esther Mabel, b. 19 December 1907, Thurles, d. 30 August 2001.
Doris, b. approx 1911, d. 22 November 1992. m. Sidney Bingham (d. 3 April 1996). Lived in Derbyshire.
Phyllis Amanda, b. 1914, d. 18 January 2001. m. Cecil Lea (d. 24 October 1970).
Career:
Joined Royal Irish Constabulary. Started in Dublin and Templemore. Was chosen as part of an escort for Edward VII when visiting Ireland when he was still Prince of Wales. Postings with approximate dates were as follows:
Templemore/Dublin -1910
Ballinderry 1910-1914 (first posting as sergeant)
Ballingarry 1914-1915
Annagh 1915-1918
Lorrha 1918-1921/1922
Retired in 1921/1922 and moved to Warrenpoint in 1924. Continued to be active in public service for which he was awarded an MBE.
Other information: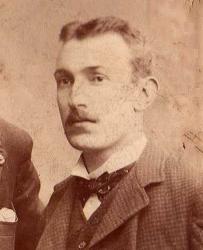 Grew up on farm as part of a Protestant family called Fegan in Ballinaguilsha. Got scarlet fever while working in Dublin. Met wife Edith Emily Smith who was a nurse while recovering at Dr. Steeven's hospital in Dublin.
Daughter Esther wrote a piece about her father.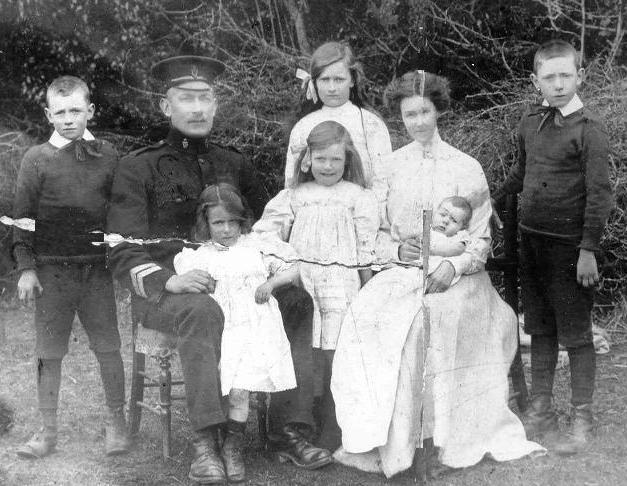 Greene family c. 1912.
L->R Jimmy, Thomas, Esther, Elsie (in front), Ida (behind), Edith, Doris, Harry (Phyllis not yet born).