[Dr. Chris Oakley's Home Page] [Oedipus Home]
Oedipus: The Cover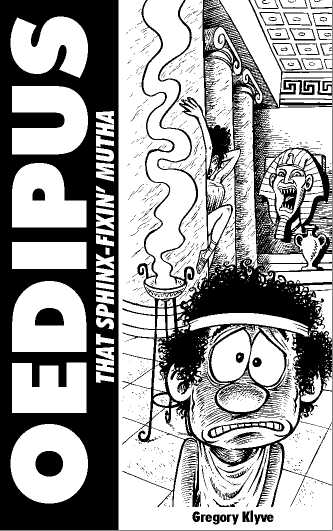 The Oedipus book was originally going to be a joint effort between Gregory Klyve and myself. I had commissioned a cover illustration for the first volume (The Legend of Perseus) from Hunt Emerson in 1989, and he was clearly going to be the perfect choice for the subsequent covers as well.
I sent this e-mail to him on 28 October 2003:
Dear Hunt,
You may remember doing a cover illustration for us in 1989. If you don't, then click here to remind yourself. The book shifted much better with your illustration. Thanks very much. Gregory & I have now decided to press ahead with a sequel. The title will be Oedipus with the sub-title That Sphinx-Fixin' Mutha. You can see an outline here. We are very keen that you should do the cover illustration once more. We imagined much the same format as Perseus, but with Oedipus as the word in large letters instead of Legend. Roughly we had in mind a man with a worried expression in the foreground & an arm holding a bra from a darkened room, or something, behind him, and maybe the head of the sphinx like a trophy stag on a wall. Would you be interested in doing this (or similar)? Look forward to hearing, Chris Oakley
---
[A few exchanges later ...]
---
Hi Chris,
Attached are 3 roughs for the cover, with a choice of 2 Sexy Momma, and 3 Oedipus (Oedipae?). I'm not sure about the Sphinx head on the wall - I need to work on that. Or maybe a Sphinx-skin rug on the floor. Anyway, give me a call or drop me a line with responses.
[Ends]
As you see I chose the third. The first two are probably funnier but I was not confident that they would go down well with the large bookshop chains. Actually, number three works fine anyway as the story of Oedipus is so well known that the worried look on his face is enough to get the message across.