Randal Robert Alexander Marlin
Born: 22 January 1938, Washington, D.C., U.S.A.
Father: Ervin Ross Marlin
Mother: Hilda Gerarda van Stockum

Married: Elaine O'Brien, Ottawa, 28 June 1969.

Children:

Christine, b. 16 December 1970. Married Michael Alan Schintgen, 16 July 2005, Barry's Bay, Ontario, Canada.
Alexander, b. 22 January 1973
Gregory, b. 14 August 1975
Nicholas, b. 18 April 1980
Laura, b. 9 March 1982
Marguerite, b. 14 April 1984

Education:

1946-48 Académie Piché (English section), Canada
1948-50 St. Leo's, Westmount, Canada
1950-51 College Stanislas, Montréal, Canada
1951 St. Gerard's, Bray, Ireland
1952-55 Ampleforth College, Yorkshire, U.K.
1955-59 Princeton University, U.S.A., B.A. Philosophy
1959-61 McGill University, Canada, M.A. Philosophy
1961-63 Trinity College, Oxford, U.K.
1963-64 Université d'Aix-Marseille, France
1964-66 University of Toronto, Canada, Ph.D. Philosophy (1973)

Career:

1963-64 Visiting Lecturer, Institute for American Universities, Aix-en-Provence, France.
1964-66 Instructor, University College, University of Toronto.
1965 Teaching Assistant, Summer Institute of Philosophy, University of Alberta at Calgary.
1965-66 Don, New College, University of Toronto.
1966-68 Lecturer, Carleton University.
1968-77 Assistant Professor, Carleton University.
1977-2001 Associate Professor, Carleton University.
1994-95 Visiting Academic, Trinity College, Dublin.
2001- Adjunct Professor, Carleton University (now retired)

Other information:

Date of photo?
See web site: http://www.carleton.ca/~rmarlin/ for more.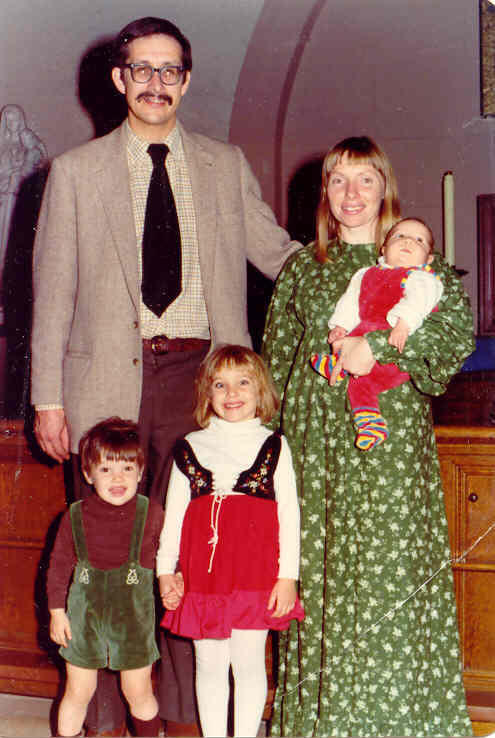 Randal and Elaine with Alex, Christine and Gregory. 1980 (?)