Amelia Caroline King
Born: between 31 March 1790 and 18 January 1791, Fredericton, New Brunswick, Canada.
Died: 18 January 1860.
Father: George King
Mother: Caroline Amelia Morison
Married: Sir Richard Paul Jodrell, of Salle Park, Norfolk, 12 December 1814, St. Marylebone, London.
Children:
Richard Paul Hase, b. 3 August 1818, d. 12 November 1855, St. Alban's, Herts. m. Anna Maria Isabella Moore, daughter of 3rd Earl of Mountcashell, October 1848, All Soul's, St. Marylebone, London. No children.
Amelia Vertue , b. 15 December 1821, Marylebone, London. d. 15 September 1890.
William George, b. 18 May 1823, d. 20 January 1824.
Edward Repps, Rev. Sir Edward Repps, b. 20 June 1825, d. 12 November 1882. Married Lucinda Emma Maria Garden (b. abt 1825, d. 1 March 1888, Cannes, France). No children.
Henry Sheldon, b. 15 May 1827, d. 9 August 1832.
Education:
Career:
Other information: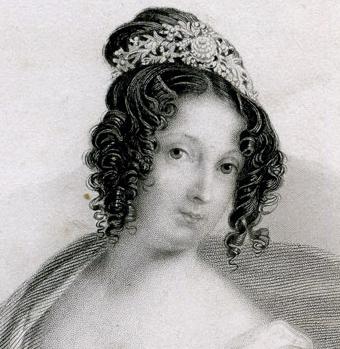 [Image from the Bill Power Collection]
Was living with her father around 1812 in Heydon Hall in Norfolk, near Salle House, the Jodrell residence, which is how she met her husband.
The marriage seems not to have been a happy one. in 1836 she tried to divorce her husband on the grounds of cruelty. To avoid adverse publicity, Sir Richard then drew up a deed giving her an allowance to enable her to manage the finances of the house, and her own, herself. This arrangement worked until February, 1845 when he asked for more detailed accounts and she refused. Sir Richard then stopped payments, but was forced to continue them by the court when she filed a suit against him.
One may speculate that this uneasy domestic backdrop contributed to their daughter's decision to elope in 1842.
This is the entry for Amelia's husband, Sir Richard Paul Jodrell, second baronet in the Dictionary of National Biography (vol.29; 1892):
Sir Richard Paul Jodrell (1781-1861), was educated at Eton and Magdalen College, Oxford (B.A. 1804, M.A. 1806), and was called to the bar from Lincoln's Inn in 1803. He succeeded his maternal grand-uncle Sir John Lombe (formerly Hase), as a baronet at Lombe's death on 27 May 1817. He died on 14 Jan. 1861, leaving issue by his marriage, on 12 Dec. 1814 to Amelia Caroline King (d. 1860), natural daughter of Robert, second earl of Kingston (Gent. Mag. 3rd ser. x. 234 [Feb. 1861]; BURKE, Peerage , 1891, p. 762). He was author of: 1. 'Carmina Selecta,' 8vo, London, 1810, a privately printed selection from his Greek and Latin verses written at Eton. 2. 'Epigram' affixed to 'Lines written extempore at the Plain of Waterloo,' 4to, Dover, 1840. 3. 'Dover, Ancient and Modern, a Poem, with an episode, views, and notes,' 8vo, Dover, 1841. [Ends]
Note: the entry is in error in that George King was Amelia's father, as can be verified from affidavits lodged by relatives in the Jodrell v. Seale case (1888).
A special thanks to Stephanie Hitchcock, who has done extensive genealogy on the Jodrells, and supplied a lot of the information given here.